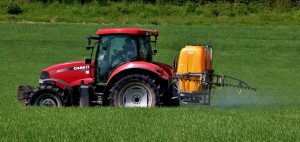 If your private pesticide applicator certification has recently expired, or will expire soon, you need to register for re-certification.
Anyone who intends to purchase, mix, load, apply, or direct the use of restricted use pesticides as a private applicator must be certified. Certification is good for five years.
You must re-certify before your expiration date if you want to continue to use restricted-use pesticides. (Check your certification card for the exact date.)
How do I re-certify?
Private Pesticide Applicator Training classes will be offered by Portage County UW-Extension in 2019. Pre-registration is required. The cost of the manual and training class is $35, and can be paid by cash or check. Click on one of the links below to register online.
Friday, February 1st
Friday, February 15th
If you are unable to attend one of the classroom sessions, the second option is to self-study and schedule time through the UW-Extension office to take the exam on your own. Call 715-346-1316 or send an email by clicking here.
The manual is available at the UW-Extension Office in the Annex at 1462 Strongs Avenue, 2nd Floor, Stevens Point. The $30 manual only fee can be paid by check or cash.
Testing by Appointment Only: Call 715-346-1316 at least 1 week ahead of time to schedule a test time. Tests are scheduled to begin no later than Noon.