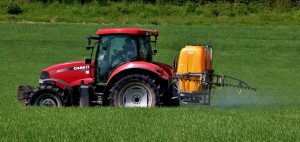 If your private pesticide applicator certification has recently expired, or will expire soon, you need to register for re-certification.  
Anyone who intends to purchase, mix, load, apply, or direct the use of restricted use pesticides as a private applicator must be certified.  Certification is good for five years.
You must re-certify before your expiration date if you want to continue to use restricted-use pesticides. (Check your certification card for the exact date.)
How do I re-certify? 
Registration for 2019 Private Pesticide Applicator Training classes is closed.  If you were unable to attend one of the classroom sessions, you will need to self-study.
1st Step
Purchase the manual at Portage County Extension,1462 Strongs Avenue, 2nd Floor, Stevens Point.  Office hours are Monday – Friday, 7:30 am – 4:30 pm.  Manuals are $30 and can be paid for by check or cash only.  
2nd Step
Make an appointment to take your exam.  Testing by Appointment Only: Call 715-346-1316 or send an email by clicking here.   Appointments must be scheduled at least 1 week ahead of time and begin no later than Noon.