Manure safety warning ~ November 3, 2016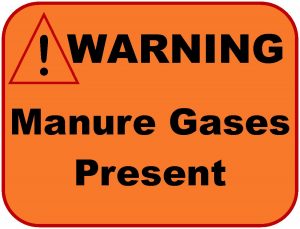 Since August, Manure Gas Safety has been an issue and continues to be a concern. The weekend of October 22-23, facilities in Iowa, Illinois and Wisconsin lost feeder steers in incidents related to hydrogen sulfide (H2S) during pump-out. These incidents involved deep-pit storage under slated floor barns with natural ventilation. Since learning of these incidents, two additional incidents have been identified from September in Illinois and Ontario, Canada.
At this time we are not able to explain why there has been an uptick in incidents.  Gas monitoring by producers and custom applicators have shown high occupational exposure levels of H2S in fields, tractor cabs at pump-out, and different locations in the facilities.
To assist with monitoring information, the OSHA H2S Health Effects information has been modified for use. Click here to view the document.  Also available is this information on monitoring equipment.
See also the news release from Iowa State Extension related to beef barns: http://www.extension.iastate.edu/article/pit-gases-pose-danger-beef-barns
Cheryl A. Skjolaas, Agricultural Safety Specialist
WI Extension Disaster Education (EDEN) Point of Contact
UW Center for Agricultural Safety and Health