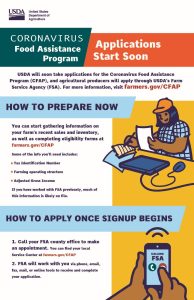 Coronavirus Food Assistance Program, Information is now live on farmers.gov/cfap   Program sign up begins May 26, 2020 and ends August 28, 2020.   Details on payment rates, eligibility, and records needed for the application are on the website. Online application and payment calculator will be available when sign-up begins to help streamline the application process.
·         Direct payment for Dairy Farmers Dairy Markets & Policy outlined changes and calculated a few farm examples so you can see the impact on dairy farms.
·         Direct payment for Commodity Crop Farmers Renk Agribusiness Institute outlines how the program works, payment rates and how to calculate payments.
·         Direct payment for Livestock Farmers (will be posted this weekend)
PPP & EIDL Loans/Advances – what farmers need to know This article provides updates on the PPP and EIDL – with links to webinars, radio interviews and resources.
 Find more resources on the following topics:
·         Finances
·         Social distancing protocol on farms
·         Planning to ensure farm continuation
·         Maintaining a safe workplace
·         Learn the facts about COVID-19
·         YouTube: Extension Agriculture COVID19 Response
Managing a Farm During COIVD19 (Farm Management specific page) https://farms.extension.wisc.edu/coronavirus/
Extension Response to COVID19 (main page) https://fyi.extension.wisc.edu/covid19/