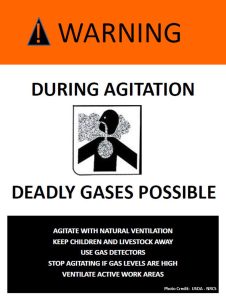 The 2016 death of a young Portage County farmer who died while agitating a non-enclosed manure storage system has increased awareness of the dangers present in manure gases.
Portage County UW-Extension has created this page as a point of reference and educational information for our agricultural community. Please check back as links will continue to be added.
This new publication is a MUST READ for anyone involved in pumping and hauling manure from all manure storage systems.
Notices and Articles
Manure Safety Warning ~ Cheryl Skjolaas, Specialist at UW Madison/Extension Center for Agriculture Safety and Health
Pit Gases Pose a Danger in Beef Barns ~ Iowa State Extension
VIDEOS & WEBINAR RECORDINGS
Manure Gas Production and Dispersion ~ Dr. Rebecca Larson, UW Madison/ Extension Assistant Professor and Extension Specialist
Safety & Monitoring Considerations ~ Dr. John Shutske, UW Madison/Extension Professor and Agricultural Engineering Extension Specialist
Manure Gas Safety ~ UW Center for Agricultural Safety & Health
Manure Safety ~ Cheryl Skjolaas, Specialist at UW Madison/Extension Center for Agriculture Safety and Health
Think Safety First ~ Rick Martens, Martens Manurigation, via www.learn.extension.org
BROCHURES & PUBLICATIONS
Hydrogen Sulfide (H2S) Health Hazards ~ UW- Madison/Extension Center for Agricultural Safety and Health & OSHA
Manure Gas Monitor Information ~ Great Plains Center for Agricultural Health
Non-Enclosed Manure Storage Safety Tips ~ UW- Madison/Extension Center for Agricultural Safety and Health
Manure gas safety review of practices and recommendations for Wisconsin livestock farms ~ UW Madison/Extension
Manure Storage Design and Safety Considerations with Gypsum Bedding ~ Penn State Extension
Open Air Manure Storage Safety Tips ~ Penn State Extension
Confined Space Manure Storage Hazards ~ Penn State Extension
Preventing Deaths of Farm Workers in Manure Pits ~ The National Institute for Occupational Safety and Health (NIOSH)
Beware of Manure Pit Hazards ~ National Ag Safety Database & Michigan State Extension
NRCS Alerts Farmers About Dangers of Manure Storage Agitation ~ USDA NRCS
AG SAFETY WEBSITES
Agricultural Safety & Health provided by UW Center for Agricultural Safety & Health
Great Plains Center for Ag Health – Manure Gases