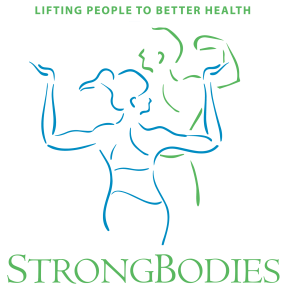 Open enrollment: Every Monday, Wednesday, & Friday @ 10 am
Extension/FoodWIse is a participant in the national evidence-based StrongBodies™ program.
StrongBodies™ promotes positive change in people of all ages to live stronger, healthier lives by providing knowledge, inspiration, access to programs, and ongoing support.
StrongBodies™ envisions a worldwide community of people who are fit, strong, and healthy; in turn, these empowered people will become positive agents of change for their families, communities, and beyond.
Want to learn more about our LOCAL program?   Click here to see comments from our local participants, and click here to see a demo video of our online class.
Learn more about the program here. 
Resources:
Home Safety Checklist for StrongBodies Participants
StrongBodies Exercises
Watch StrongBodies at home on PBS or Youtube 
Sherry Daniels, Family Living Educator
715-346-1321
sherry.daniels@wisc.edu
Penny Schmitt, FoodWIse Nutrition Educator
715-343-6254
penny.schmitt@wisc.edu
Partners include: Portage County ADRC, Stevens Point YMCA, United Way of Portage County and local communities.