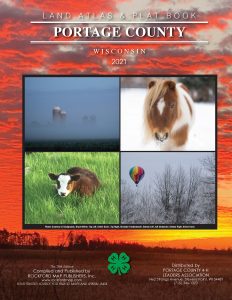 The 2021 Portage County Plat Books are now available! All proceeds from the plat books support the Portage County 4-H Program. Plat books are a convenient reference for local governments, private realty, surveying companies, and the general public. Plat Books make use of the Public Land Survey System (PLSS) to represent land ownership patterns on a county-wide basis. Plat books are prepared from a variety of data sources, including U.S. Census TIGER (digital line) files, historical local government tax parcel maps, aerial photography, and property descriptions. These records are used to produce a generalized representation of current land ownership patterns along with planimetric features, such as roads, water bodies, and railroads.
To Purchase In-Person: 
Pick up your book at the Portage County Extension Office with $40.00 cash or check payable to Portage Co. 4-H Leaders.  We are located in the Portage County Annex Building on the 2nd Floor.
To Purchase via UPS:  
Mail a check for $50.00 payable to Portage County 4-H Leaders and UPS shipping information to:  Portage County Extension, 1462 Strongs Ave, Stevens Point, WI  54481.
Plat Books can also be purchased at these local businesses:
AgCountry Farm Credit Services, Stevens Point
Arnott Milling Co., Stevens Point
BMO Harris Bank, Post Rd in Plover
Community First Bank, Rosholt & Stevens Point
Farm Service Agency (FSA), Stevens Point
Feltz's Dairy Store, Stevens Point
Firkus Lumber Company, Rosholt
International Bank of Amherst
Jay-Mar, Inc., Plover
Jensen Community Center, Amherst
OK Hardware & Rental, Amherst
Portage County Bank, Almond
Portage County Business Council, Stevens Point
Rural Mutual Insurance, Plover
Sand County Equipment, Bancroft