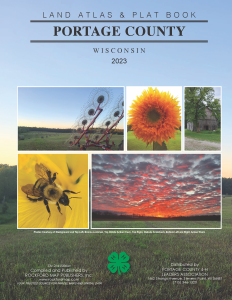 The new 2023 Portage County Plat Books are now available! 
All proceeds from the plat books support the Portage County 4-H Program!
Plat books are a convenient reference for local governments, private realty, surveying companies, and the general public. Plat Books make use of the Public Land Survey System (PLSS) to represent land ownership patterns on a county-wide basis. Plat books are prepared from a variety of data sources, including U.S. Census TIGER (digital line) files, historical local government tax parcel maps, aerial photography, and property descriptions. These records are used to produce a generalized representation of current land ownership patterns along with planimetric features, such as roads, water bodies, and railroads.
2021 Portage County Plat Books are also available for $25 at the Portage County Extension Office only.  
2023 Plat Books can be purchased for $40 at these local businesses:
AgCountry Farm Credit Services, Hwy 10 East Stevens Point
Arnott Milling Co., Stevens Point
BMO Harris Bank, Post Rd in Plover
Community First Bank in Rosholt
Community First Bank, Hwy 10 East Stevens Point
Feltz's Dairy Store, Porter Drive, Stevens Point
Firkus Lumber Company, Rosholt
International Bank of Amherst
Jay-Mar Inc., Plover
Jensen Community Center, Amherst
OK Hardware & Rental, Amherst
Portage County Bank, Almond
Rural Mutual Insurance, Post Road, Whiting

Sand County Equipment, Bancroft

Spectrum Insurance Group, Stevens Point
To Purchase In-Person
Pick up your book at the Portage County Extension Office with $40.00 cash or check payable to Portage Co. 4-H Leaders.  We are located in the Portage County Annex Building on the 2nd Floor.
To Have a Plat Book Shipped to you via Spee Dee Delivery
Mail a check for $50.00 payable to Portage County 4-H Leaders and street address for shipping  to:  Portage County Extension, 1462 Strongs Ave, Stevens Point, WI  54481.