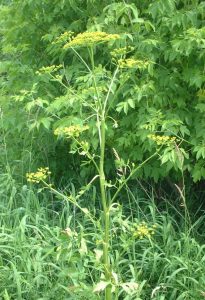 Wild Parsnip, (Pastinaca sativa) is classified as a noxious weed in Portage County and must be destroyed if found on public or private property.
Wild parsnip is an herbaceous plant that establishes as a rosette with upright leaves persisting for at least one year. Plants flower in subsequent years (typically 2nd or 3rd year), but after plants flower, they die (monocarpic perennial). Flowering stems are stout, hollow, grooved, and up to 5' tall.
Caution: Sap contact with skin in the presence of sunlight can cause a rash that often leads to blisters and discoloration of the skin (phytophotodermatitis). Wear gloves, long sleeves, and pants when handling.
For more information on Wild Parsnip click on the links below or contact our office at 715-346-1316.
Wild Parsnip Identification Video
A Blistering Wild Parsnip Report
Wild Parsnip Reporting Portage County, WI
Manual Reporting in Portage County – Township Maps
Printable 4 x 6 "Truck" Cards for Roadside Workers  (2-sided, 2 per page)
Timing of Control Measures for Wild Parsnip